23
dec
My Love for CupCakes is getting shape
I just LOVE, LOVE, LOVE cupcakes. The sight of them makes me happy. They are the cutest little treats! And even more important, they are the most delicious things there are in the world :)
Just before I left Australia to head back to the Netherlands for another 'move adventure' I bought a few books about cupcakes with the idea that I should finally try to make them myself this time and not just buy and eat them from the shops.
So now that I'm back in the Netherlands (although yet without the books) I have made my first ever cupcake! Well, about 20 of them :) I bought the batter in this cute little shop in The Hague: 'Cake, Bake & Love' that is conveniently situated next door to a great friend of mine. They have a sort of ready to make batter and icing. Which means I only have to add some butter, eggs and water.
So... on this gloriously cold and rainy day I sat out to make me some cupcakes! It was just too easy with this cupcakemix. I didn'r realise I only had a cupcake tray for 12 cupcakes and I was making about 24 of them. So I ended up doing two batches, which was brilliant as I added some good chocolate (cocoa powder) in the second batch. No idea how much, thus I went to look it up on internet and didn't get a good answer. So, I just added 2 table spoons which did the trick: they came out yummy!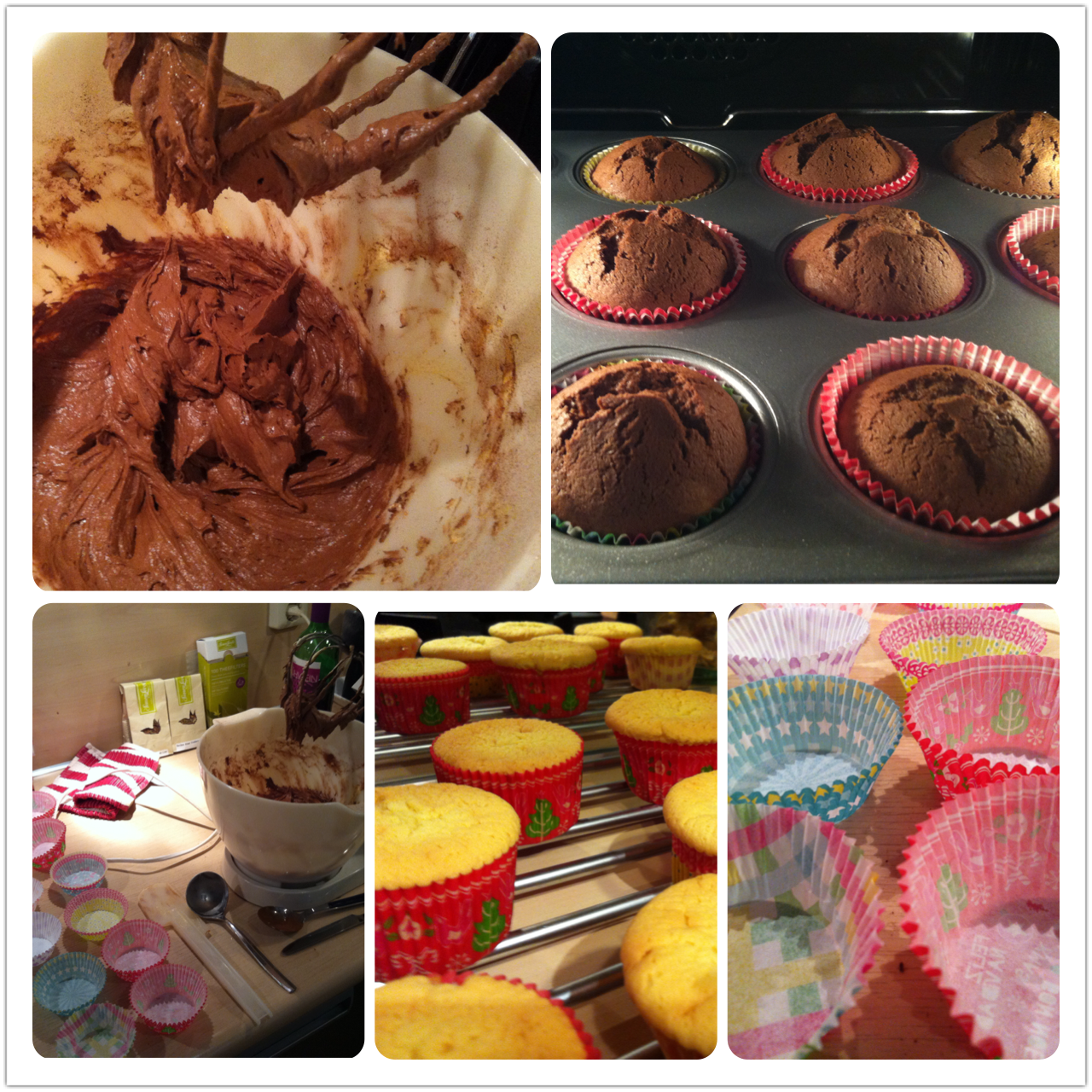 The vanilla cupcakes caved in a bit when I took them out of the oven. A friend told me that it might help not to get them out of the oven right away, but open the door to cool them slowely and then take them out. The chocolate cupcakes stayed up a bit more (thoudh hadn't done anything different, as I know of).
Then was the time to make my buttercream frosting: yummm! Which again with a ready made mix (adding butter and water) was easy as hell! I got it in the piping bag with not too much difficulty and then...
Disaster! How the hell do I get one of those really nice big swirly toppings :( I think my tip of the pipingbag was just too small, but I ended up doing a flower type frosting which looked not too bad. I sprinkled some with blue sprinkles to bring to a babyboy visit and decked the others out differently!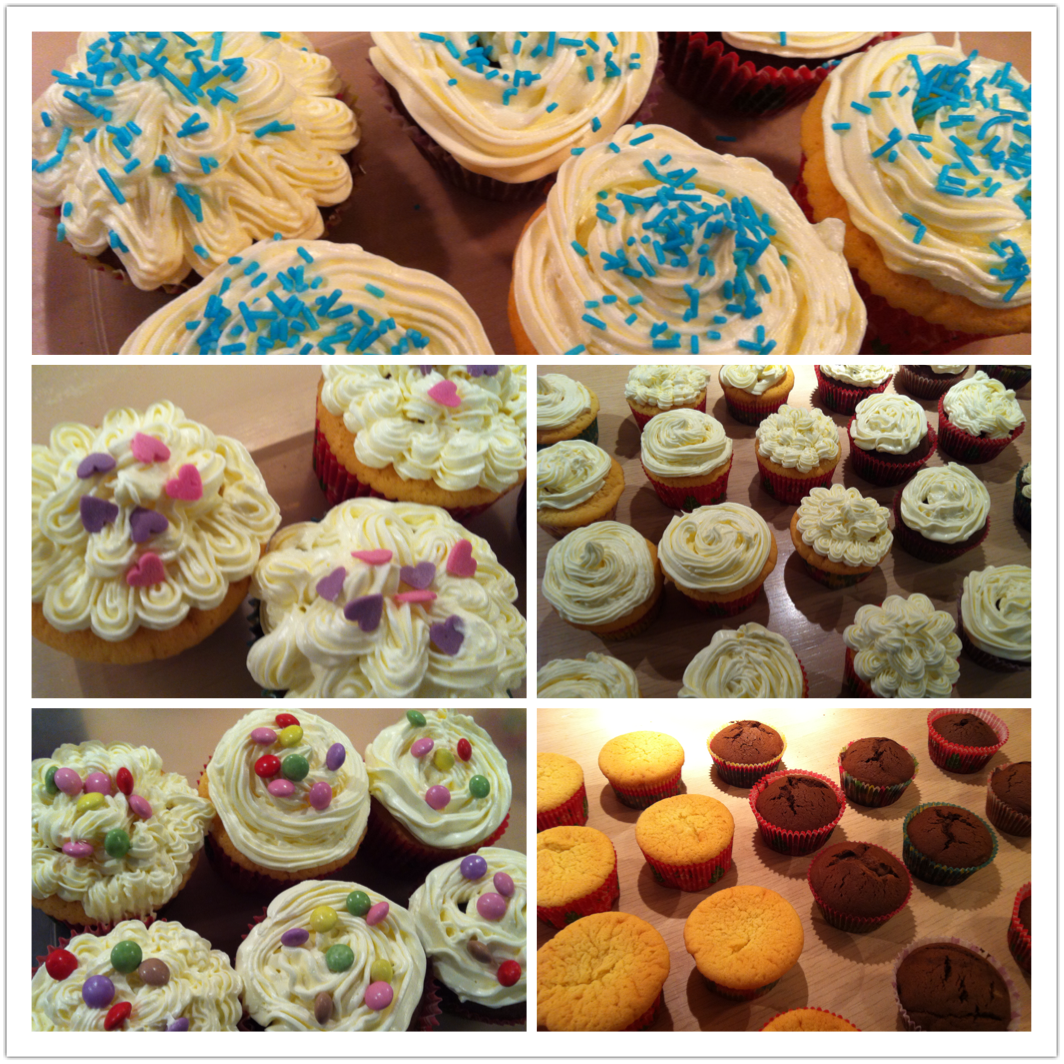 I must say the ones with the purple and pink hearts came out the best (the flower like frosting).
I bought some more stuff to make another batch soon! Some different flavours to use, some colouring (pink!) and more cakemix! I'll post them on here as well.
I'm also going to my first ever cupcake workshop on the 22nd of January and am curious what I make/bake after that!
16
jun
to leave my Dutch life behind and start again in Aus
My whole family came to the airport with me to say goodbye. Also did one of my best friends Marjan and of course my boyfriend Gijs!! Checked in and got rid of my suitcase(s). We had some drinks before having to say goodbye!
Saying our goodbyes was NOT FUN :(
Have never been so difficult to leave, but have never had so much to leave behind either… Why am I leaving again?? ;)
Walked to the gate and had to board almost right away. Talked to the ladies there at the desk to try to get an exit seat and got it :) Nice!! Could even still choose, and choose a window seat so I can rest my head against the window when I want to sleep. But… the window seat had less legroom then a normal seat because of the exit door :O Luckily for me, there was no one next to me for the whole flight. So could sit in the middle seat with LOADS of room!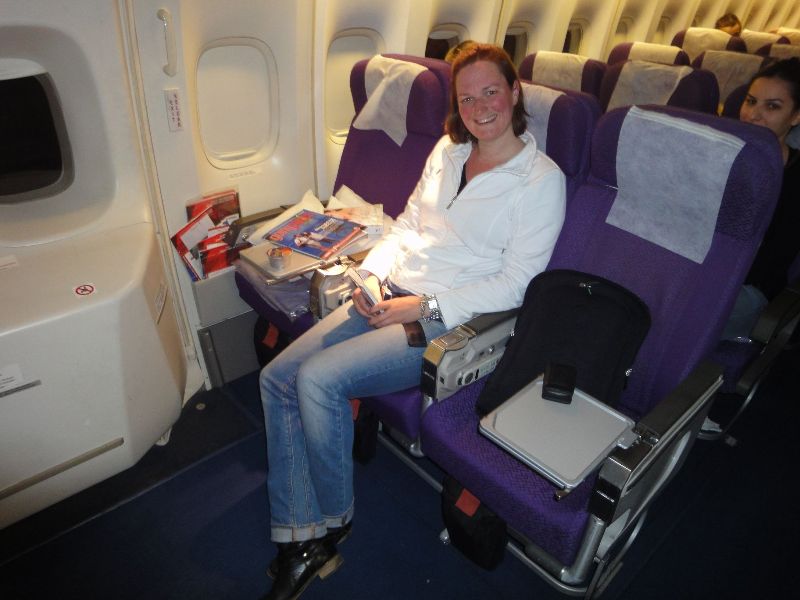 Booked with MAS (how appropriate), which is Malaysian airlines. Great service, good Asian food and really lovely stewards that treated me with a bit of extra TLC (tender love and care)! Maybe they knew I was a bit sad… When dinner came around I choose the Asian chicken noodles, but got the other one as well from the stewards! They didn't want me to have to choose. Two dinners was a bit much though. They also asked me if I wanted any thing else often: more drinks (alcohol maybe?), more peanuts, more to read!? Felt almost like I was in first class, not bad :) My seat was next to the kitchen, so maybe that's why? Had some great chats with them as well!
In KL (Kuala Lumpur) I had a few hours to spend. It was still really early in the morning and not all the shops were open jet. I just wanted to get online to email, but the free WIFI didn't seem to work on my iPad. Bummer… Did finally find a computer with internet that worked, so I could finally read my emails!!
Another 9 hours to fly, this time no exit seats vacant. When the plane finally landed in Sydney, I wasn't to sure if I should be happy or sad? I got my suitcase and had the customs form filled in already (noting I had something to declare: food, liquorish and chocolate :). As always they took me out of the (very long) line and ask for the form and, like always, they send me to another line (definitely a short, just 2 peole in front of me). Another guy took my form and guided me to another line again. This line took me out of the customs right away. I was surprised, because in Australia they always check all luggage (ever seen the customs series on tv about Australia?). Was lucky, or I just look really very trustworthy :)
Walked through the doors and saw my friends Greg and James right away! How great is it to be picked up by people who you care for! Perfect to meet up with my friends the minute I'm in Sydney! Thank you guys… Felt better already!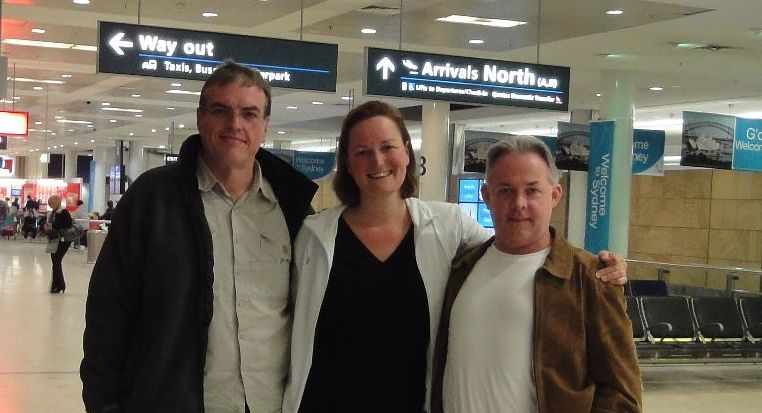 Greg, me and James
We talked a while and then headed home. Home is in Epping the first few weeks, where I'm staying with James until I find my own place!
11
jun
It's hard to say goodbye to my great friends and lovely family!
After selling my home, sorting out all my stuff, moving out and moving in with my sister, the day of my farewell party arrived. We had drinks and dinner at Beach-café 'Down Under' (how appropriate ;)… The sun was shining, people were happy and the alcohol was in abundance (or was that just me?).
How great is it to have so many of my great friends and family with me! I will miss them dearly, but the time has come to say goodbye!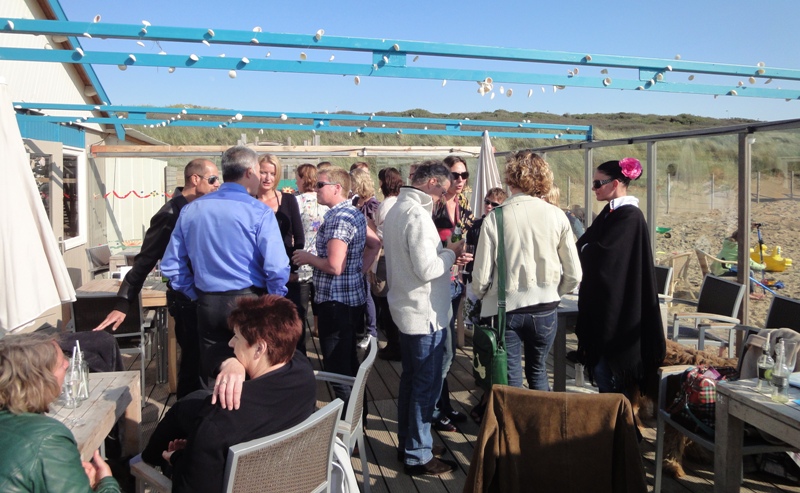 Having drinks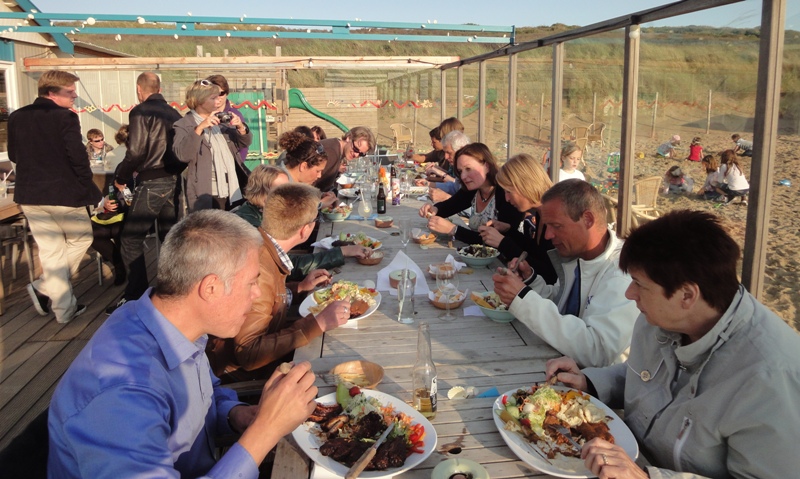 Dinner! A few of us watched the sun set!
Voor meer foto's, zie mijn fotoalbum